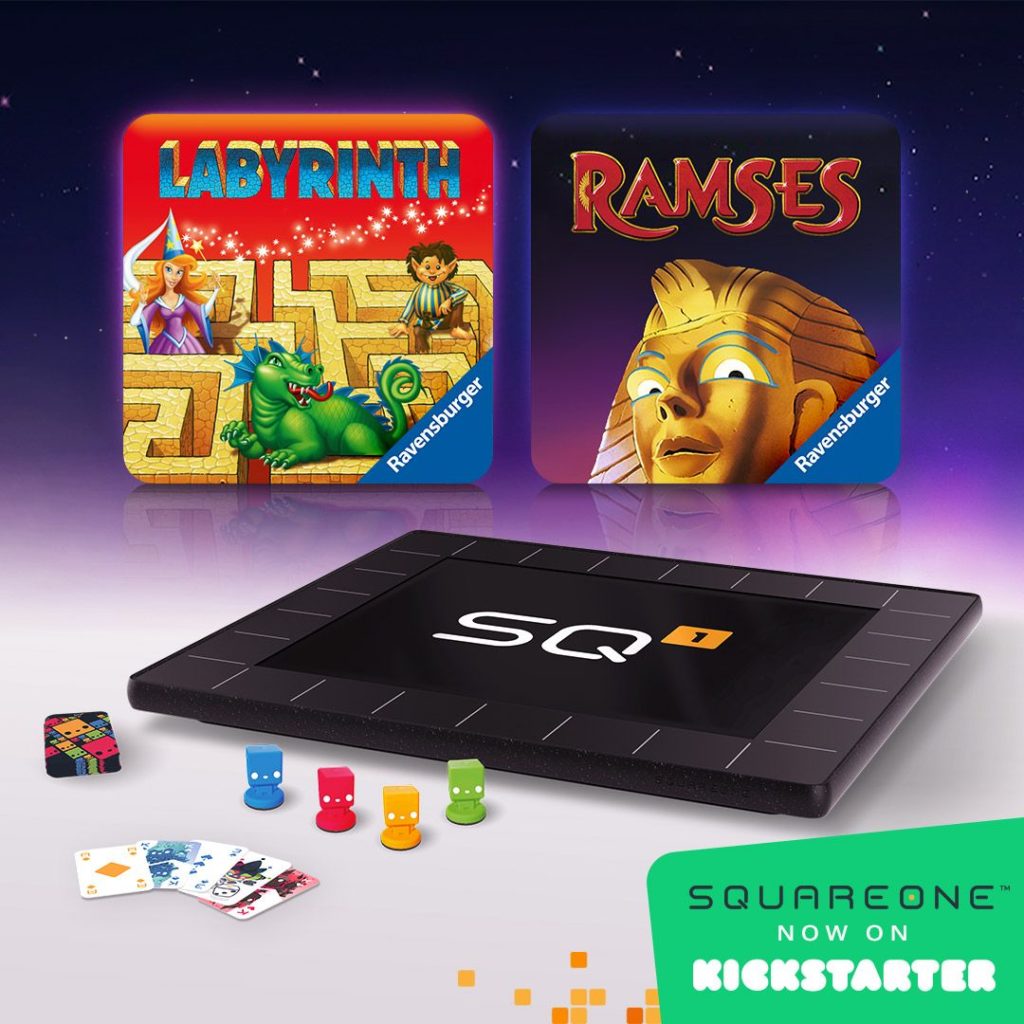 Wizama, the company behind the innovative immersive board game console SquareOne® announced today a new partnership with leading German game publisher, Ravensburger. SquareOne® is a gaming console that combines the best of traditional board games and video games into one system. With the license, Ravensburger family games will be transformed into an immersive experience offering both physical and digital interactions for a new hybrid gameplay. The SquareOne® console which will include top Ravensburger games is available now on Kickstarter until Dec. 16.
Ravensburger is one of the leading brands for puzzles, games, and activity products in the world as well as for children's and youth books. Two of Ravensburger's most renowned games will be integrated in the console: Labyrinth and Ramses. Thanks to this partnership, the games will be adapted to a new interactive experience combining the best of what physical and digital gaming has to offer.
"Having a diverse gaming library available on the SquareOne® system is something that is very important for our players." said Franck Botta, CEO of Wizama. "Being able to partner with such highly regarded family game publisher like Ravensburger will allow us to showcase a whole new category on the console. We are excited for families and friends alike to enjoy Ravensburger titles through the new and immersive SquareOne® world."
"Ravensburger is delighted to sign this partnership with Wizama. SquareOne® brings a major innovation to the gaming industry. Present in the board game and with online games, it is obvious to us as a leader in our markets to offer Ravensburger know-how and games on this new format combining physical and digital." Thomas Zumbühl, International Category Director Games in charge of the partnership at Ravensburger.
Two new creations of the hybrid gaming world
Two leading board game titles from Ravensburger, Labyrinth and Ramses will be featured on SquareOne®. Labyrinth is a puzzle-solving game for children and adults where players move around the shifting paths of the Labyrinth in a race to collect various treasures. Ramses is a family board game where players try to find the hidden treasure under the moving pyramids in order to become the winner.
A growing catalogue in presale on Kickstarter
Ravensburger is another key milestone in the young history of licensing partnerships Wizama is currently negotiating for SquareOne®. The company recently announced licenses with other leading game brands such as Urban Rivals and Cthulhu Wars. This is just the beginning for SquareOne® and the potential the console is bringing to the market. Wizama plans to continue to add to their diversified game options come the official launch of SquareOne® next year.
Wizama's SquareOne® is available now and those that are interested are encouraged to support via Kickstarter. For additional information, please visit Wizama.com and follow us on Facebook, Twitter and Instagram.
About Wizama
Wizama is a startup created in 2017 by Franck Botta, CEO and research engineer at Technicolor, Florent Guitton, operational manager and former project manager at Thomson, and Damien Botta, Associate Director General. The games have always been part of their lives. Wizama thus created a board game console, combining board games with video games, and imagining new ways of playing together. The company took part in several shows and festivals such as the International Games Festival (Cannes, France), UK Games Expo, Japan Expo, Gamescom (Cologne, Germany) and (Munich, Germany) where it was finalist at the Electronica Award 2018. The company is based in Brittany (France).
(Visited 39 times, 1 visits today)
Last modified: December 4, 2020