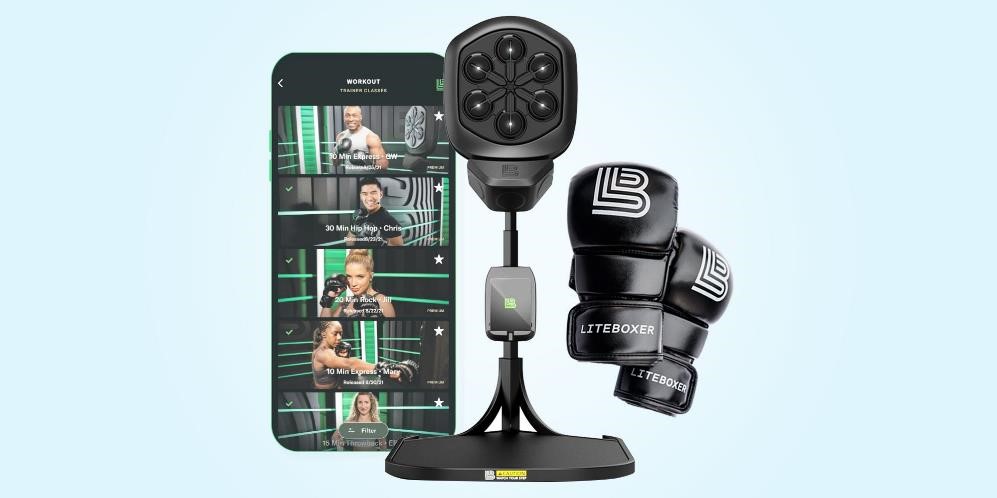 January 4, 2022• byD. Chandler
(Visited 137 times, 1 visits today)
Meet Liteboxer, the celebrity-backed at-home fitness company that's about to claim its stake in the Metaverse with their new VR launch happening on January 5th, 2022. Brought to market in 2020, Liteboxer combines patented hardware, hit music, game dynamics, and expert training to create the world's most immersive workouts. Liteboxer is designed to make high-intensity workouts as fun as playing a video game while building cardio, strength, and mental acuity.
Liteboxer will be an exhibitor at CES 2022 from January 5th-8th, 2022 (booth: #54111, Sports Technology), located in Tech West at the Venetian Expo, Halls A-C. The brand will be displaying all its current models, including the Floor Stand, Wall Mount, and the brand-new VR offering, each available for demo. Also, we invite you to talk to founders Todd Dagres and Jeff Morin, as they will be on-site to discuss Liteboxer and new developments in the future of tech and wellness.
Liteboxer combines patented hardware, game dynamics, hit music, and expert training to create the most immersive workouts to date. Liteboxer's maiden VR fitness experience will be available on Meta Quest 2, featuring real in-app expert trainers with new workouts daily. Liteboxer VR will also offer motivation-based competition and an extensive music library in partnership with Universal Music Group, bringing music that ranges from Lady Gaga to YG into the virtual ring.
VR workouts connect people in a way that's deeper than a 2D screen. You can work out anywhere in the world, with some of the best trainers in the world, without leaving your living room. No additional hardware is required, just a VR headset and your will to win. Liteboxer VR is built to be fitness-first and champion a sports-at-home experience, unlike other VR fitness offerings. You will see a Virtual Liteboxer in front of you- you will see the shield and runway lights and be immersed in the Liteboxer VR world. Liteboxer VR uses hand tracking so that you can exercise with or without controllers. Liteboxer is launching the next generation of VR fitness today, equipping its users to enjoy an intense workout experience with sleeker hardware. Simply download the app from the Quest Store to access Liteboxer's ever-growing workout platform.
Liteboxer VR will be available for purchase by consumers in the Quest Store beginning on March 3rd, 2022, enabling users to step into the ring for a full sensory fitness experience that evokes an emotional response formerly unique to sports. Regularly priced at $18.99/month (7-day free trial) for first-time Liteboxers, Liteboxer VR will be free for those who already own Liteboxer's innovative Floor Stand or Wall Mount models and subscribe to Liteboxer's membership program.
(Visited 137 times, 1 visits today)
ces2022 fitness liteboxer metaverse vr
Last modified: January 4, 2022