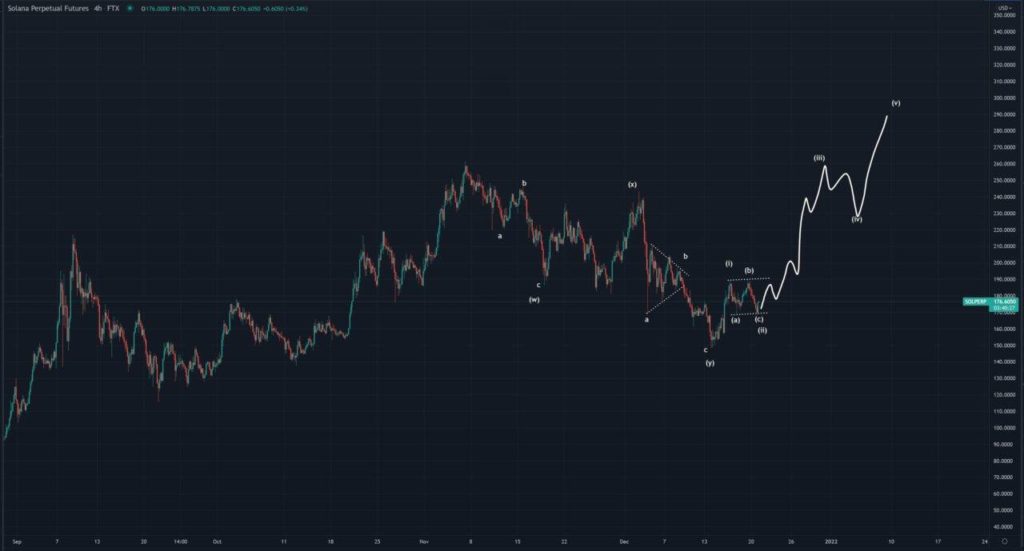 (Visited 46 times, 1 visits today)
Solana ($SOL) Price Could Soon 'Rage Pump' After Hitting Bottom, Crypto Analyst
A closely-watched cryptocurrency analyst who predicted 2018's bear market bottom, has predicted that the price of Ethereum ($ETH) competitor Solana ($SOL) could soon see a "rage pump" after hitting a bottom below the $150 mark.
The pseudonymous cryptocurrency analyst, Smart Contracter, noted on Twitter that Solana has bottomed with a "nice clean 3 wave move down from the highs on daily," The analyst told his nearly 200,000 followers he expects Solana's price to hit a new all-time high.
Smart Contracter's price prediction uses Elliott Wave theory, which according to Investopedia was developed by Ralph Nelson Elliott in the 1920s after he observed and identified "recurring, fractal wave patterns."
These fractal wave patterns are based on the psychology of the masses. The Elliott Wave theory is usually interpreted is usually interpreted based on five waves moving in the direction of a main market trend, which can be bullish or bearish, and by three corrective waves. The repetition of these patterns, theory suggests, allows the movements of asset prices to be predicted.
The theory is said to have gained notoriety when Elliott himself predicted the stock market bottom in 1935 after a 13-month correction. Smart Contracrer's analysis of SOL using it suggests the price of the cryptocurrency has completed a wave-two corrective phase and is now ready for a third wave rally.
Based on his analysis, he predicted a Solana price "rage pump" is near and advised followers not to forget Solana's past rally earlier this year. Notably Zhu Su, CEO of crypto investment firm Three Arrows Capital, has revealed the firm has been accumulating "a massive amount of SOL.
As CryptoGlobe reported, popular cryptocurrency exchange Kraken recently suggested the price of Solana could rally up to 260% by the first quarter of next year based on technical analysis of its price performance since 2020.
In its November 2021 Market Recap and Outlook report, Kraken detailed that Solana has been in a "broadening ascending wedge" and "appears in the early innings of its fourth wave of price discovery." Adoption of Solana has been growing, with crypto-friendly browser Opera planning to integrate its ecosystem into its wallet early next year.
DISCLAIMER
The views and opinions expressed by the author, or any people mentioned in this article, are for informational purposes only, and they do not constitute financial, investment, or other advice. Investing in or trading cryptoassets comes with a risk of financial loss.
(Visited 46 times, 1 visits today)
Last modified: December 23, 2021