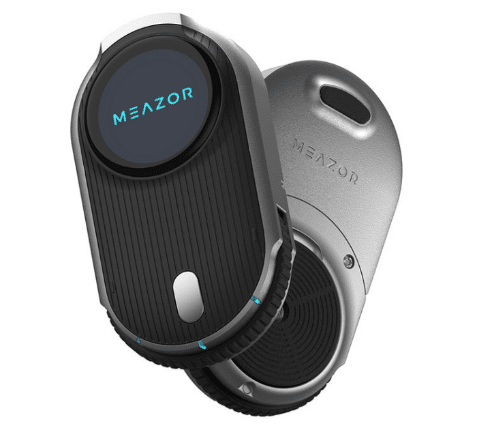 With a sleek, compact and attractive design with a durable aluminum-alloyed frame, the MEAZOR has been exquisitely engineered to fit seamlessly into creative lifestyles, and is currently the smallest 2D laser room scanner in the world. Whilst the device is ideal for creative professionals, designers and architects, MEAZOR has also been meticulously designed to be used in everyday life, to make measuring easier and more enjoyable for all. The 184 PPI tempered glass touch screen and 4096 grade magnetic encoder are built to last, providing high-grade durability and stability for rolling function. The 650mAh battery also supports up to 30 days of wireless use on a single charge and supports USB-C charging.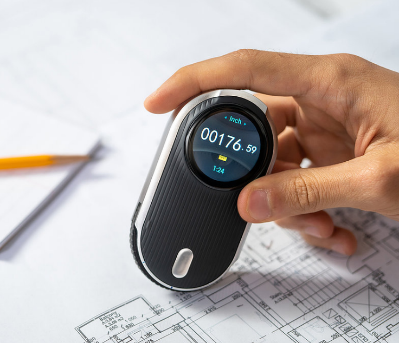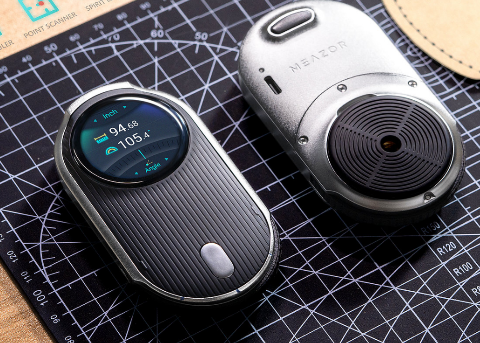 The MEAZOR boasts an incredible array of impressive features and is truly the first of its kind. A unique 2D floor scanning capability enables users to perform precise measuring for high-end floorplans in seconds, as the device can simply be rotated 360°. The built-in rolling measurer ensures that every last detail is measured precisely, from straight edges, to detailed arcs using the curve scanning function. It also has the ability to convert metric and imperial units, and even customised scales.
The laser distance measurer records reliable measurements of up to 25 metres/80 feet, putting MEAZOR leagues above conventional laser measurement devices. Additional features include a built-in bubble level, protractor, curve scanner and pro laser.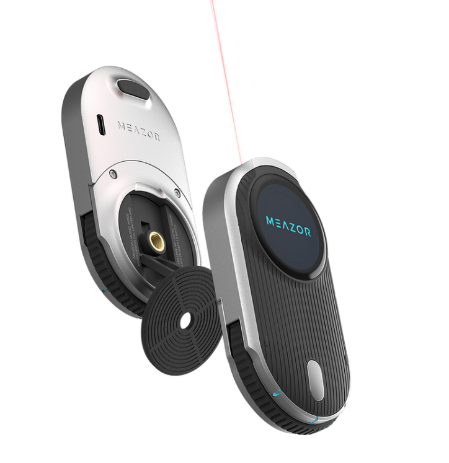 With MEAZOR's intuitive smartphone app, users can connect their smartphone via Bluetooth and can import designs, draw and edit plans, share and export 4 different types of CAD files seamlessly. The app also boasts an impressive space and dimension calculation feature and is available to download from the App Store and the Google Play Store.
Product specifications:
Display: 1.3inch (diagonal) IPS-backlit display, 240×240 resolution at 184 PPI
Storage: 120MB Flash Drive
Size: 3.93inch x 2.12inch x 0.83inch (100mm x 54mm x 21.3mm)
Battery: Built-in 650mAh lithium-polymer battery
Wireless: Bluetooth
Laser Measure: Measure ranges from 0.3ft-82ft (0.1m-25m). Measure accuracy 0.08inch
Rolling Ruler: Measurement accuracy 0.2% on rough surfaces. The accuracy will be decreased on smooth or soft/curved surfaces
Point Scanner: Measure up to 12900ft. The measurement error is proportional to the area of the scanned floor: 0.2inch-4inch
Scales Measure: 25 Built-in US Standard Scales, 20 Built-in Metric Scales, Supports customized scales in MEAZOR app
Units: Inch, Foot, Yard, Miles, MM, CM, Metre, KM
MEAZOR APP:
Android: Android 6.0 or above and requires a minimum 4GB ram. Adapt to phones and tablets.
iOS: iOS 13 or above. Adapt to phones and tablets.
Connection protocol: Bluetooth 4.0 wireless connection.
(Visited 61 times, 1 visits today)
Last modified: November 17, 2021