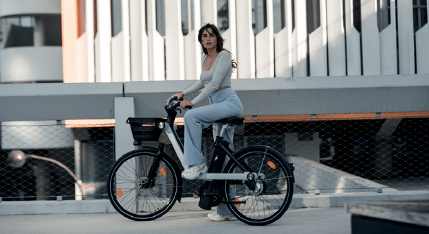 Thinking bigger to improve the quality of life in our cities
There is no doubt that electric bikes are the most reliable and efficient alternative to cars. But, despite the significant uptake of cycling in affluent areas, it hasn't yet developed enough in the areas where it's needed the most.
According to an internal study of major French cities outside Paris, less than half of inhabitants live a 10-minute walk away from a self-service bike station. Additionally, ADEME and Indiggo find that three quarters of all self-service bike systems are in cities with over 50,000 inhabitants. We must accelerate the adoption of bicycles to all urban and suburban areas – to reduce transport- related CO2 emissions and noise pollution, to improve health and, ultimately, to make our cities more peaceful places to live.
"The key to the mass-adoption of cycling lies in a city's ability to offer their citizens equitable access to efficient active mobility services that are always available, whatever the time, place and need. Smoove and Zoov intend to support cities and their elected officials in their mobility transformation, for the benefit of the lives of their inhabitants" – Benoît Yameundjeu, CEO of Smoove.
An all-inclusive electric bike «as a service» offer – from short to long-term use
Smoove and Zoov are advocating the implementation of Augmented Bike Networks that connect entire cities, and are interlaced with public transport to facilitate multimodal journeys. These bikes can be rented on an ad hoc basis or can be privatised at any time for more frequent use. With this in mind, the group is unveiling the first self-service electric bike that is perfectly suited for long-term rental.
Fusion has a 65-kilometre range and, when being operated in self-service, can be recharged through the world's most compact charging station. Each station accommodates up to 10 bikes, locked together with electromagnets – which also allows for the transfer of energy from one bike to the next. For long- term rental, the removable battery is secured by an electronic lock, giving the user the freedom to recharge when necessary and total peace of mind when leaving the battery in the bike. The custom-designed luggage rack ensures comfortable home-to-work journeys, and can also accommodate a baby seat.
The electric bike is controlled by a mobile app, allowing the user to:
Sign up to, manage or cancel their subscription at any time
Locate their own bike or a nearby self-service bike
Unlock and lock the bike
Unlock and recharge the battery (long-term leasing)
Follow an integrated GPS route
Receive theft or low battery alerts (long-term leasing)
Speak to customer service
And much more.
When operated in a fleet or shared bikes, Fusion can be unlocked from a payment kiosk or with a transport card thanks to RFID compatibility.
From the design of the bike and compact smart station, to the built-in intelligence and the mobile app, a high-quality user experience is at the heart of the mission to create long-term, committed cyclists.
"The first challenge we confronted was to build a bike that flourished at the crossroads of self-service and long-term rental whilst also remaining accessible, in terms of cost. The second challenge was to use connectivity and software to turn data-driven innovation into a seamless experience and provide a level of service that continually exceeds expectations" – Arnaud Le Rodallec, Chief Product Officer & Co-Founder of Zoov
The all-in-one service created by Smoove and Zoov blurs the boundaries between bike-sharing and personal cycling, which allows cities of all sizes to offer a complete bike solution to all inhabitants – from city centre to suburbs – whatever the nature or duration of their need.
Amira Haberah, Marketing and Sales Director and Co-founder of Zoov, adds: "What completely changes the game is that each city can offer a complete service, addressing all use cases, with the same fleet of bikes. This generates strong operational synergies – from the management of repairs and spare parts to human resources – that drastically reduce the cost of access to the service."
Subscription-based electric bikes arrive in Bordeaux
This autumn, the company will launch its inaugural long-term rental service in Bordeaux. The subscription includes a personal electric bike, a charger for the battery, insurance against theft and damage – and an on-demand maintenance/repair service (guaranteed within 24 hours).
The company already operates a fleet of 500 self-service electric bikes in the city, with a satisfaction rate of over 95% since its launch.
Early-bird registration for the subscription-based offer in Bordeaux is now open to the general public at www.zoov.eu. The number of places is limited.
About Smoove and Zoov
Smoove and Zoov, two technological leaders in the field of sustainable mobility, joined forces in April 2021. Having already put hundreds of thousands of people on saddles in over twenty cities around the world (including Paris, Moscow, Vancouver and Helsinki), the group's mission is to offer universal access to cycling in all regions, with a simple promise: whether you need a bike for a short or long period of time, you will always find one nearby, quickly. With comfortable and robust bikes adapted to self-service and private use, compact charging infrastructure, a complete, connected experience for the user, and advanced management tools for the operator, Smoove and Zoov are creating on-demand bike networks. These networks, when deployed on a large scale, become the backbone of mobility in more harmonious and sustainable cities.
Discover the latest advances from Smoove and Zoov throughout September at the following events: Vélo-City (Lisbon, 6-9th September), Sustainable Cities Forum (Paris, 14th September), Rencontres Nationales des Transports Publics (Toulouse, 28-30th September).
(Visited 88 times, 1 visits today)
Last modified: October 11, 2021