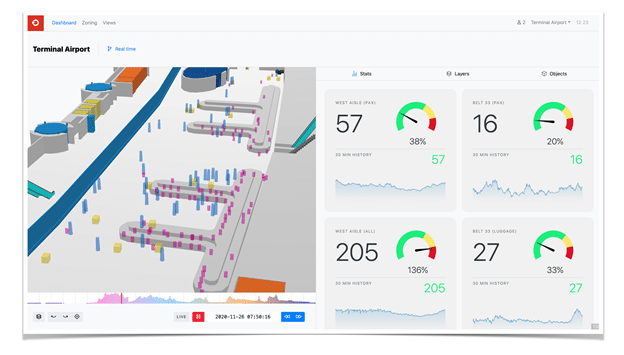 (Visited 78 times, 1 visits today)
Outsight gives operators supervision in real time.
Public space operators can now keep a close eye on their visitors with new laser-enabled Spatial Intelligence from Outsight.
Outsight is the creator of a unique LiDAR processing solution that can simultaneously perceive and understand the environment in 3D. Selected by Paris Airport (ADP), the technology has been deployed in the Charles de Gaulle Airport to provide precise yet anonymous monitoring of people flow in real time, which is especially helpful during the Covid-19 pandemic.
Thanks to Outsight's technology, ADP can now get valuable insights into people flow and asset utilization in real time, at a level of detail that has not been seen before. The technology measures the precise number of people in any location, their flight of origin, how they use the airport facilities, where they wait, and where they like to spend time: their A to Z itinerary and interactions.
All these observations are made in real time for immediate call to action and generate the required knowledge base over time to make the right investment decisions.
Raul Bravo, President and Co-Founder of Outsight, said: "This achievement done with ADP, just a few months after the company's creation, demonstrates the relevance of our 3D perception approach in a context of improved operations and security. This first implementation follows a succession of announcements for Outsight and triggered many solicitations in other areas such as shopping malls, train stations, stadiums, recreation and convention centers."
Individual and precise, yet anonymous, people monitoring
One of the key points of this technology is Privacy by Design: the laser sensor sees shapes and does not see any sensitive data. This enables it to follow individual people with a complete and guaranteed respect of privacy.
Enhancing every public space
The core of an operator's job is to optimize the transit of its visitors. Having a better comprehension of their journey allows them to provide better services and to adapt infrastructures to users, which directly translates into higher revenues and lower costs. Outsight, a leader in the emerging Spatial Intelligence market, is a key enabler for its customers to achieve operational excellence.
An awarded technology
In less than a year, Outsight has successfully designed and industrialized this new generation of LiDAR processing solutions, which has been the subject of 42 patent applications.
Outsight innovation won the prestigious Best of CES Innovation Award in Las Vegas as well as the Prism Award by the world leaders in photonics and lasers. Outsight has already attracted the largest organizations and equipment manufacturers in the automotive, aeronautics and security-surveillance markets, including Faurecia and Safran.
About Outsight
Outsight develops real-time 3D LiDAR perception solutions. It provides Smart Machines and Smart Cities with a new level of understanding of their environment. Outsight believes these new capabilities contribute to building a safer and more resource-efficient world. Outsight's international team of scientists and engineers work with passion and dedication to achieve this from Paris, Helsinki and San Francisco.
(Visited 78 times, 1 visits today)
Last modified: January 2, 2021