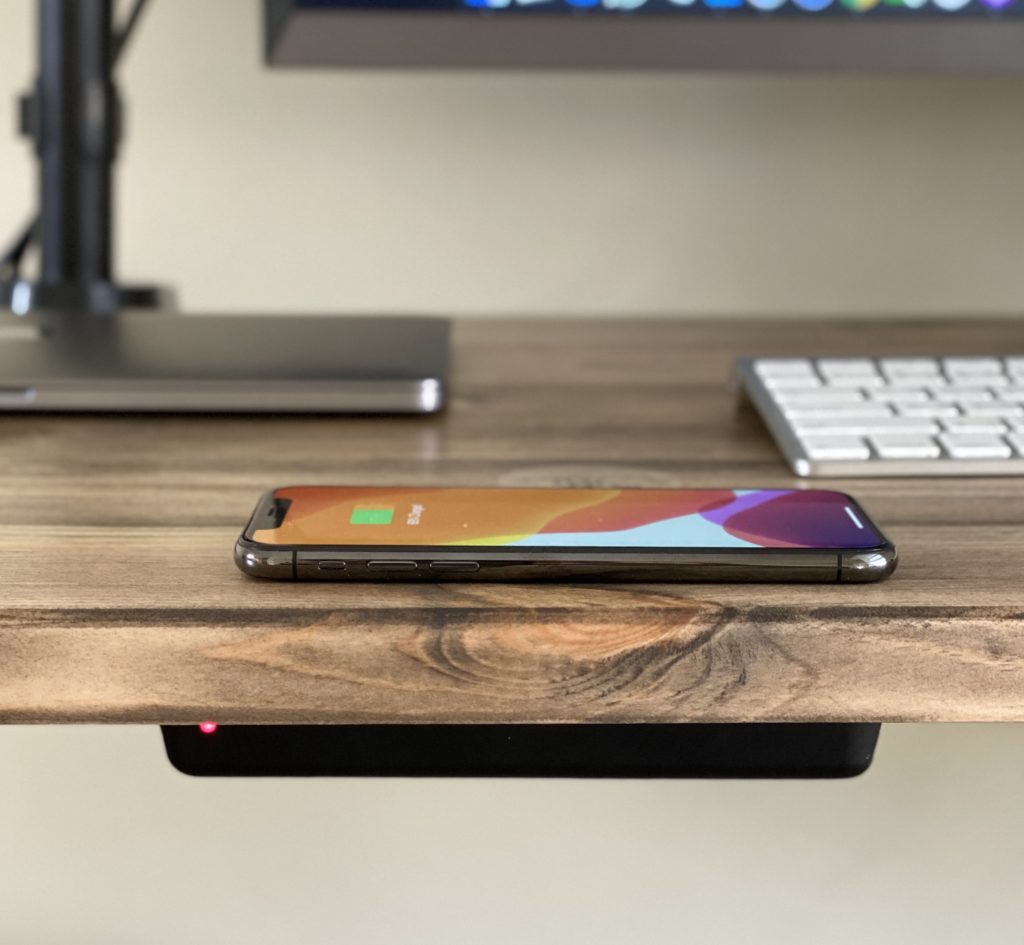 #wirelesscharger #kewlabs #surfacecharger #power
Kew Labs introduces the UTS-1, the world's first under the surface charging system incorporating its unique Intelligent Power Communication.
With Intelligent Power Communication™ Technology, strong safety features and an in-house design and manufacturing set up, it aims to make wireless charging less intrusive with under-furniture designs whilst keeping high-tech performance. Available to buy from April/May in the US, UK, and EU for ~$105.00 USD/~€105.00/~£105.00. CES 2020 gives a first look at the innovative launch of the UTS-1 which also be available at wholesale prices for business customers for commercial spaces, furniture makers and aftermarket tradesman.
The UTS-1 goes discreetly underneath a table or surface allowing users to charge a phone through the object using the Qi-compatible wireless technology. Designed and optimized in-house by Kew Lab's Korean wireless charging design team, the charger can fast-charge both Apple and Samsung phones and works through glass, wood, granite, quartz, plastic and other common materials excluding metal. It is so powerful that it can charge effortlessly through industry-standard 18mm-25mm thick surfaces making it applicable for most furniture such as coffee and side tables, office desks and kitchen worktops.
Kew Labs have addressed all the common safety concerns about excess heating of both charger and phone through its hardware and firmware design. This makes the UTS-1 the first truly consumer-friendly wireless charger for furniture in the home or workspace that also safely provides Fast Charge performances common in most on-the-table Qi wireless chargers in the market. There is no need for professional installation or extensive milling and drilling to install unlike wireless charging points seen in large café chains such as Starbucks which all require professional installation. There is also no requirement to sign up for company-specific apps to unlock charging or cause irreparable table damage which was a key aspect that Kew Labs wanted to avoid for at-home users.
Using the charger helps to reduce desk clutter, maximize space and provides a premium technology feel to a home or office whilst still providing a powerful performance. With its simple installation, it can be used by even the most technophobe people and those who aren't quite DIY-pros! Adding it to furniture with the provided tape or screws means there is no visible damage to any furniture and it's in-keeping with any minimalist or ergonomic home décor. A switch on the device simply changes the range between 20mm and 25mm distance depending on the table thickness. Alignment is easily done through an audio calibration set-up system using a template for all major Qi charging enabled mobile phones currently on the market. Driving the performance of the charger is the Intelligent Power Communication™ (IPC) Technology – Kew Lab's patent-pending USP. IPC™ allows the charger to work through surfaces efficiently to deliver fast charging for Apple and Samsung models. The charger will also work with all other Qi wireless charging mobile phones (e.g. Huawei, Google, Sony) however this will be at a regular 5W speed.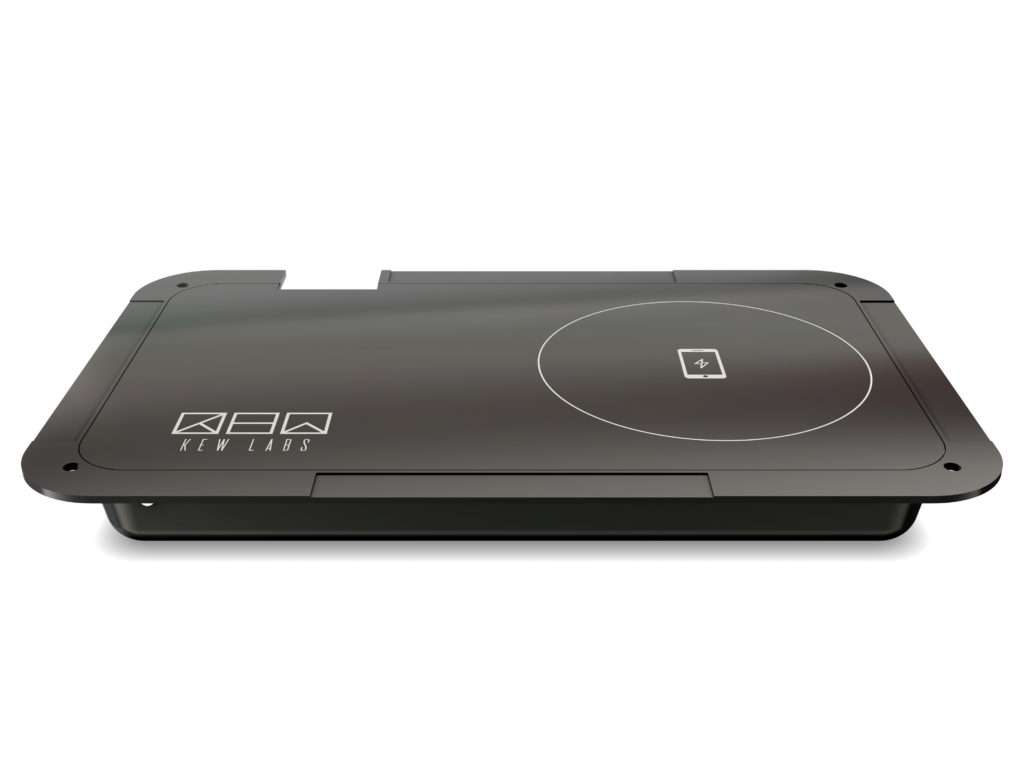 Current device manufacturer wireless fast charging speeds are 7.5W for Apple and 9W for Samsung. The proprietary system (IPC™ technology) works through two patent-pending firmware that solve the distance locating and communication inefficiency problems experienced when a Qi charging signal is sent through the material. Although other devices are currently available on the market, the Kew Labs charger is the first to have developed a reliable connection between the phone and the charger using this proprietary system. It is important to note, that without meeting the smartphone's safety protocols in a charge session, speeds are automatically capped at regular or even slower speeds due to a built-in safety mechanism to protect against overheating. IPC™ ensures that the UTS-1 not only responds to the safety protocols that a smartphone requires to initiate a fast charge session but does so in an energy-efficient manner which further reduces overheating experienced in competitor products. The technology also safely delivers the fast charge performance at all stated charging distances (18mm-25mm, 0.7"-1") to make it the most user-friendly and high performance invisible
wireless charger on the market.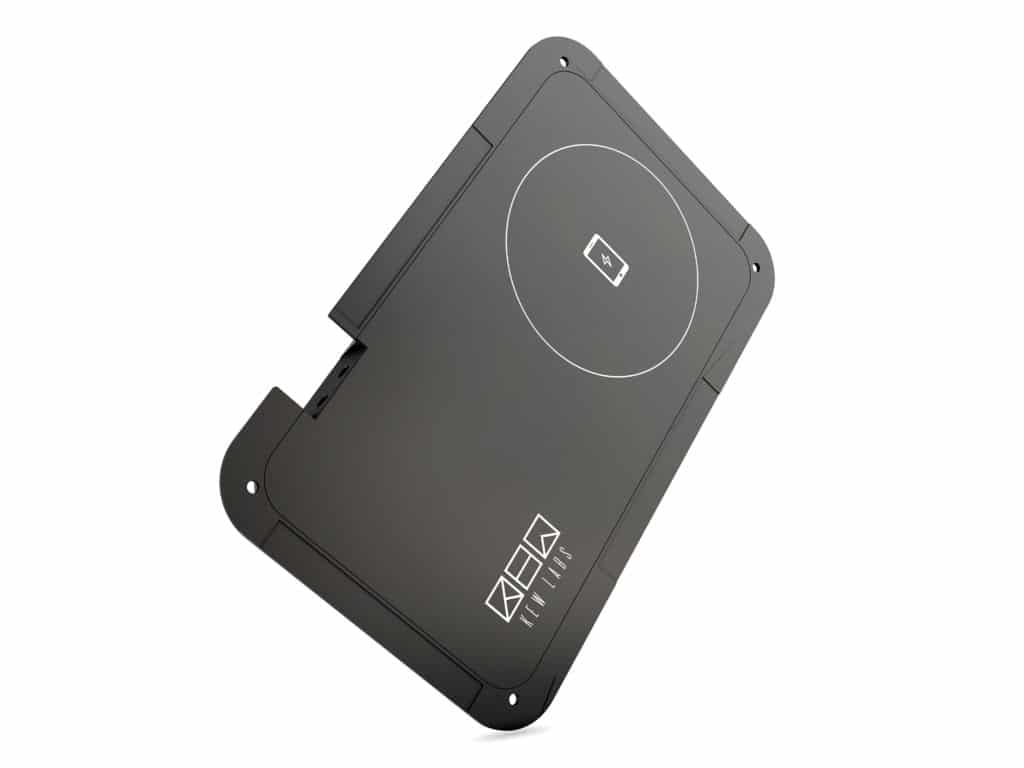 Safety
As well as high-tech performance, Kew Labs also ensured that it provided strong safety features with the product to protect both the charger and smartphone during charging. The charger comes with in-built overcharge protection and a 'foreign object detection' system to prevent the charger from overheating or being falsely activated by any metal object other than the desired mobile phone such as keys. Heat is the enemy when wirelessly charging a lithium battery which is why Kew Labs have paid special attention to reducing excess heating of the mobile phone through specially designed hardware. The new hardware focuses on sending the Qi signals directly to the smartphone's coil rather than heating the rest of the aluminum inner frame – something not possible when a Qi signal is transmitted over longer distances without IPC™ Technology. Additionally, the Kew Labs charger is packed with more heat dissipation components than its competitors and the 36W power adapter is powerful enough to ensure it is not overworked, keeping the overall temperature of the charger and phone within an optimal range.
An additional feature of the Invisible Fast Wireless Charger is that it is the first of its kind that can be daisy chain-linked. This allows users to connect two chargers in series using just one adapter for a double charging point to be used for multiple devices or on meeting room tables with a number of devices requiring a charge point. Kew Labs also provide a one-year warranty for all chargers.
(Visited 124 times, 1 visits today)
Last modified: April 13, 2020