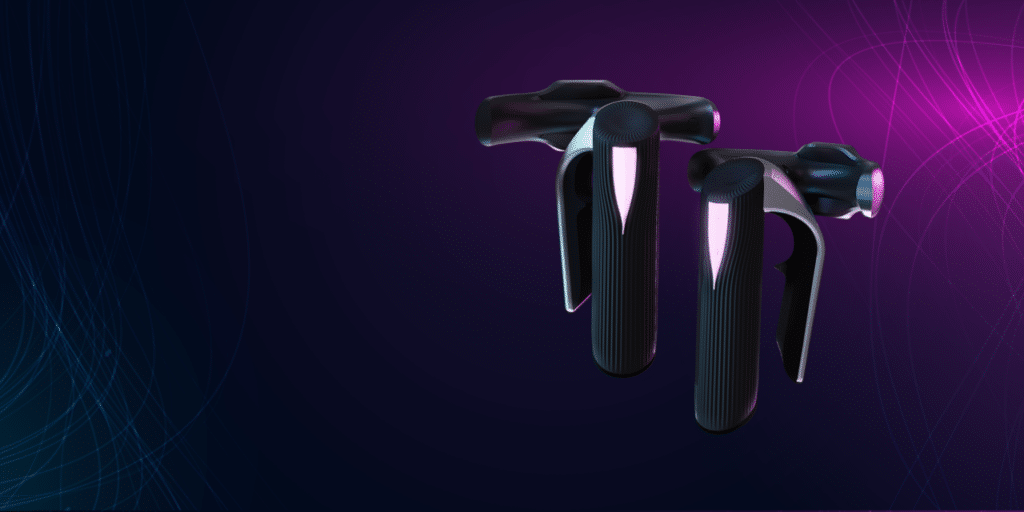 TG0, the makers of eteeControllers, the only intuitive button-free way to play VR, have launched eteexr.com to bring a more human VR ecosystem to the masses.
Central to this revolutionary VR ecosystem are detachable SteamVR 360° trackers, which push gameplay to the next level while encouraging more people to enter the world of VR.
Built to improve upon industry-standard 240-270° FOV, the 360° eteeTrackers pick up a fuller range of movements, while maintaining the light, intuitive, and more human etee style of control.
The 360° eteeTrackers work seamlessly with eteeControllers, allowing increased reliability — even with one lighthouse. This means users only need one base station, thereby lowering entry costs to VR and the detachable modularity allows etee users to 'play their way'.
Jakub Kamecki, VP Business Development at TG0, said: "We believe in innovation, more human interaction and 'VR for all'.
"Our tracker and controller ecosystem gives users an accessible entry point, a more comfortable, human experience, and superior technology."
eteeControllers took the VR world by storm in 2020 thanks to their patented full finger sensing technology, which gives users a wider range of control through touch, pressure, gesture and proximity sensing. The controllers were fully-backed via a Kickstarter campaign, and are now selling fast at eteexr.com.
Having perfected controllers and eteetrackers, the TG0 team is cranking up design to expand the etee ecosystem with body-mounted tracker systems, accessories and a bespoke carry-case.
Jakub said: "Every day more people enter the world of VR, but as the community grows, players are demanding better and more versatile VR experiences. Users want to engage with each other in VRchat and metaverse environments like NeosVR, and to be tracked whether they sit, dance, lie down or gesticulate.
"They won't put up with uncomfortable controllers or poor tracking experiences – and that's why they're buying etee and our new trackers."
Key benefits of eteeControllers include:
More intuitive gameplay and control – just slip on and play
No need to memorise different button layouts
A more natural control experience recognising the touch, pressure, proximity and gesture of each finger
Key benefits of the 360° FOV eteeTrackers – which attach onto the eteeControllers – include:
Increased tracking reliability, even with one lighthouse
Competitive price which reduces the cost of entry for new VR users
No blind spots for greater freedom of movement and immersion
The SteamVR eteeControllers and trackers are ideal for:
VR enthusiasts looking for an alternative to current finger tracking controllers
Developers who want to incorporate the controllers into their applications
Users of first generation controllers that want a more comfortable, intutive and human-like experience
Corporate customers looking for a more accessible controller for their employees
The new eteeTrackers are available for just £56 – a +40% discount on the standard £99 price – until the end of May or until stocks last. eteeSteamVR includes eteeControllers and eteeTrackers. A pair of SteamVR eteeControllers sell for £259, while eteeControllers without trackers are available for £199.
Three-point tracking straps consisting of one belt and two limbs (arms, legs, elbows or knees) are in the last stages of development, and will go on sale at £49.
Jakub said: "We want to bring VR to the people. That means creating affordable, accessible equipment that fits users' needs for more human-centric VR. That is our mission, and making these trackers available is another step towards completing it."
(Visited 79 times, 1 visits today)
Last modified: October 3, 2021